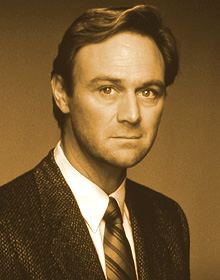 Benjamin "Ben" Carrington
is
Blake Carrington
's handsome, evil brother, who comes back to Denver from Australia at
Alexis
's "command". He makes a shocking appearance at the masked ball and warns Blake he'll ruin him.
However, while holding Blake responsible for the death of their mother, Ellen Lucy, fact is he's the one responsible for their mother's death, because due to an affair with senator Buck Fallmont's wife Emily, he ignored his mother's illness and left her to die in the fire. He was therefore, deprived of an inheritance and dishonored.
Now, as he gains a lawsuit, Ben gets his hands on part of the inheritance left to Blake, Dominique Deveraux and Alexis. It's quite understandable he'll wage war on the Carrington family, he'll even get involved in a brawl with Dex Dexter, but also clash with Adam who joins Alexis even though he has an aversion for his uncle and doesn't want to cooperate with him in a professional manner.
Only later, when Blake strikes back and regains his company and power, Ben realizes how wrong he was. At first, Ben's relationship with Alexis will be contractual beside mutual sexual attraction, still they won't be lovers but adversaries because of their mutual interest in the Carrington empire. Caress Morrell will try to blackmail him knowing the truth about Emily Fallmont, but despite his idea of taking her away by force, sending back to Venezualan imprisonment and threatening to kill her, Ellen's mystery will be disclosed and Emily will pay the price dearly.
As for Ben and Blake, after they're caught in the middle of an explosion at Asian oil-rig, he'll save the life of his repulsive brother Blake and somehow their relationship will take a turn for the better although misfortune will dog Ben without letup.
His daughter Leslie comes to Denver in order to talk to him about the past and her dead mother Melissa. Soon after that Ben finds out he could be the father of Clay Fallmont who's forced to break up his relationship with Leslie since he's afraid of possible incest. Well aware of the problems he caused, even jeopardized the happiness of her daughter Leslie and his so-called son Clay, Ben makes peace with Blake and leaves Denver.