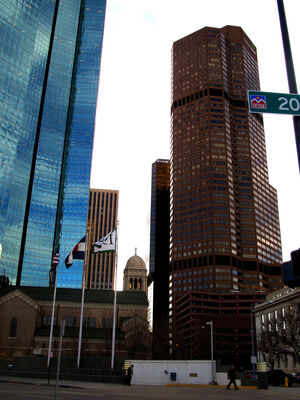 &nbsp
The Colbys have been in the United States for almost four hundred years. They undertook empire-building early in the War of 1812 and haven't stopped since. What started as a manufacturing concern, grew, invested, adapted, and filled a growing country's needs as they arose. With the advent of the automobile, the Colbys foresaw the demand for fossil fuel. As generation passed the business to generation their market share increased. By the time the post World War II family moved to their suburban Utopia, ColbyCo. Oil was a national fixture, and when leadership of the family business was inherited by Cecil Colby, it looked as if nothing could shake ColbyCo. from its lead far ahead of the pack.
In the West especially, oil was the exclusive realm of ColbyCo. Until, that is, upstart Denver-Carrington built itself into a threat against all odds and without outside ventural capital. It used to be said that ColbyCo. made Denver-Carrington look like a corner filling station. Cecil Colby should have foreseen the insatiable drive of his close friend, Blake Carrington. Today, the companies are rival titans. Shortly before his death, Cecil Colby married Carrington's ex-wife, Alexis. With this celebrated wonder woman at the helm, ColbyCo. abandoned its staid, old-line tradition and inaugrated a corporate stance that made the Four Horsemen of the Apocalypse look laid back. In 1983, ColbyCo. came close to acquiring Denver-Carrington in a move carefully choreographed by Alexis Colby. At the eleventh hour, the near merger fell through.
Critics charge the aggressive Mrs. Colby with spending too much time countering Denver-Carrington moves and too little time forerunning. Perhaps the critics underestimate Mrs. Colby. With operations around the world, especially in Latin and South America, ColbyCo.'s Lear Jet stream II is often in the air. It is a metaphor for the corporation - always on the move.
Subsidiaries
Edit
Personnel
Edit
Alexis Colby (Chief Executive Officer and Chairman of the Board; Former 50% Owner, now 70% Owner)
Adam Carrington (Director of Legal Affairs, later Legal Counsel)
Steven Carrington (Executive Vice-President)
George McKenzie (Executive at Hong Kong offices)
Luke Fuller (Executive assistant to the PR department)
Gerald Wilson (Chief Legal Counsel)
Heath Fritz (Comptroller)
Sean Rowan (de facto Chief Executive Officer)
Pamela (Executive Assistant to Alexis Colby)
Douglas (Administrative assistant)
David (Administrative assistant)
Brian (Administrative assistant)
Jason (Administrative assistant)
Jay (Assistant to Alexis Colby)
Jerome (Administrative assistant)
Peter (Administrative assistant)
Lillian (Administrative assistant to Steven Carrington)
Stuart (Administrative assistant)
Abby (Receptionist)
Dominique Deveraux (Shareholder, through her company)
Katherine O'Malley (Executive Assistant to Cecil Colby)
Cecil Colby (Former Chief Executive Officer and Chairman of the Board)