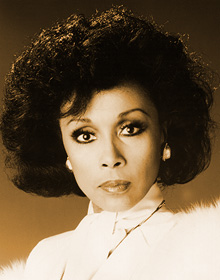 &nbsp
Dominique Deveraux (born Millie Cox; formerly Lloyd) is Blake Carrington's half-sister, a gorgeous biracial woman, from a relationship Tom Carrington had with her mother Laura Matthews. She's a successful singer and a businesswoman, owner of the music company "Titania Records".
In the beginning, during Blake's financial crisis caused by Alexis Colby's intrigues, family is shocked by her presence and they have a hard time accepting her, but Dominique will be of help to Blake many times and will prove her loyalty.
While she's staying at "La Mirage" hotel, Dominique gets a job there as a solo singer and tries to help Blake financially by managing to disclose Rashid's deception and to buy some of "Denver-Carrington" shares. Actually, what she wants the most is to establish her family rank - namely, to join the Carrington world regardless of Loretta's position or skin - so, being Brady Lloyd's protegee for the last time, she ends their marriage rather ingloriously and Brady is forced to leave Denver.
Tom Carrington, on his death bed, admits Dominique is his daughter and she'll be the executive of the will in the inheritance she shares with Blake and Alexis. Of course, Alexis is going to cause problems for her but won't succeed.
Due to the pipeline deal between the Carringtons and the Colbys, Dominique prefers to employ Jason's daughter Monica Colby in "Titania Records" and Monica accepts the offer, but its shares suddenly are being bought by Dominique's old boyfriend and Jason's attorney Garrett Boydston whom she hasn't seen in almost twenty years. It appears that Garret and Dominique have one child, Jackie, but their relationship has never been legalized because of Garret's lie that he has already been married. Finally, for helping Blake against Alexis and Ben, Dominique decides to sell "Titania Records" to Jason's rival and businessman Zack Powers, and then leaves Denver being happily married to Blake's associate Nick Kimball.
Occupation
Edit
Recording artist
Owner and Chairman of the Board of Directors of Deveraux Group, Inc.

Former Owner of Titania Records
Owner of Dominique's nightclubs
Owner of several hotels and casinos throughout Europe
Owner of 40% in Denver-Carrington
Shareholder in ColbyCo. Oil
1/3 Owner of the Sumatra Timberlands, oil and rubber interests in Sumatra, Indonesia, alongside Denver-Carringon and ColbyCo. Oil
Former Owner of The Excelsior Hotel in Los Angeles, California

Member of the Board of Directors of Denver-Carrington
Executor of Tom Carrington's Last Will and Testament